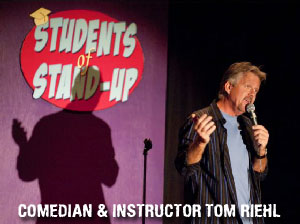 High energy and unique observations of everyday life are just two things comedian Tom Riehl has been catching people's eye with throughout his comedy career. His odd, yet honest way of looking at life has made him a favorite among comedy club audiences throughout the U.S. An unassuming look, coupled with a hard-hitting delivery allows Tom to talk about many off beat subjects that most people only think about.

Whether at a comedy club, a corporate event, or in the kitchen, Tom Riehl has been making people laugh since the early nineties.
Tom has worked with a variety of performers including comedians Bob Saget, Paula Poundstone, Alonzo Bodden, Shawn Wayans, Fritz Coleman, Jimmy Brogan, and James P. Connolly as well as musical acts Berlin, Three Dog Night, Al Jareau, Dave Koz, and David Pack of Ambrosia. He was also part of the Laff Pack, a group of five stand-up comics who performed at clubs and corporate events, and as comedians did something no other comic can understand. They met every week for close to five years for a 4 hour writing and eating session.

In addition to stand-up, Tom combined his love of cooking with an amusing way of looking at food, and created Food Rules, an outrageous, off-the-wall, cable cooking show which was featured on the Food Network's special "Funniest Food TV" and can currently be seen in a variety of markets throughout the country.



Over the years, Tom has appeared on a variety of television shows including ABC's "America's Funniest People". His creation of Subservient Suzie, America's first politically incorrect talking doll, landed him a spot on the show and a $3,000 prize. In 2010, Tom won "Best Clean Comic" at the Eagle Rock Comedy Festival.

In addition to stand up comedy, Tom also hosts live events and has appeared in a variety of television commercials and is a frequent guest on radio and television programs throughout the U.S.
You can visit Tom at any of these sites below.