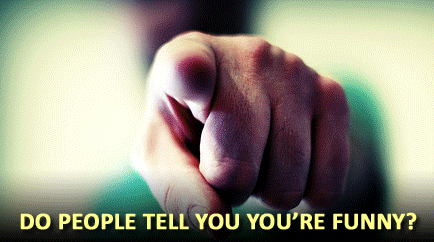 Whatever your reasons may be, our Students of Stand-up Workshops may be just what you're looking for.
Whether you're a "newbie" who has never been on stage before, or a comedian who just wants to add "more funny" to your set, our workshops offer something for everyone.
Our 6-week Stand-up Comedy 101 Workshop is geared for those new to stand-up comedy and focuses on things such as basic joke-writing skills, stage technique, and minimizing stage fright. For those who've been on stage a few times and are looking to take their material to the next level, we offer Stand-up Comedy Writer's Workshop. Students end both workshops with a "graduation showcase" for family, friends and the community.
~RESERVE YOUR SPOT NOW!~

Stand-up Comedy 101 (Partial List)


● Tools of the Trade (There's more than just a microphone)
● Writing material (Where to start. Where to get ideas.)
● Setups, punch lines, and tags
● Making a set list
● Preparation tips
● Minimizing stage fright
● Where to go for stage time

Stand-up Comedy Writer's Workshop (Partial List)


● Writing/editing material in a group setting
● Where, when, and how to edit your material
● Making your existing material the best it can be
● Marketing yourself

Stand-up 4 Kids Workshop (Partial List)


● Basic joke writing skills
● Where to find material
● How to make ideas funny
● Minimizing stage fright

ALL WORKSHOPS INCLUDE:
● 6 - Three Hour Meetings
● Dress Rehearsal
● Graduation Showcase
● Videotaping of performance
● Complimentary or discounted admission to monthly comedy shows (where applicable)