Students of Stand-up workshops featured in the OC Register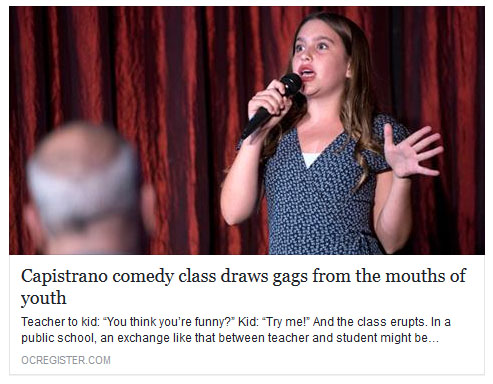 November 18, 2017

Capistrano comedy class draws gags from young comedians Kids stand-up comedy class debuts at Camino Real Playhouse
---
April 23, 2016

Students of Stand-up Graduation Show Comes to San Juan Capistrano Classes boast a record number of female performers in April 23 show
---
March 20, 2014

Largest Students of Stand-up Show Returns to Camino Real Playhouse Graduation shows feature 14 of Orange County's newest comedians.
---
July 13, 2012

6 comedy grads to take stage in San Juan San Juan Capistrano's Camino Real Playhouse will host a show July 20 spotlighting six aspiring comedians who graduated recently from Students of Stand-up, a comedy course run by professional comedian Tom Riehl.
---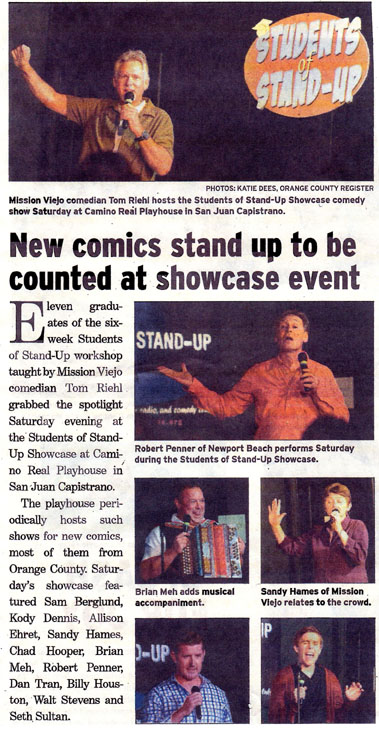 May 22, 2012 (SHOW REVIEW)

Comedy novices graduate to side-splitting in short order As luck would have it, this past Saturday I snatched one of the last seats for the Camino Real Playhouse's Stage II theater performance by three recent graduates of Tom Riehl's Students of Stand-up comedy course.
---
May 18, 2012

Three local comedy grads set to show their chops If there were a typical mold for stand-up comics, three recent graduates of a comedy course at San Juan Capistrano's Camino Real Playhouse would break it.
---
May 10, 2012

Does stardom await 3 comedy grads? Three area residents will take their shot at becoming the next Jerry Seinfeld or Ellen DeGeneres when they take the stage May 19 at the Camino Real Playhouse in San Juan Capistrano for the Students of Stand-up Comedy Graduation Showcase.
---
September 1, 2010 (SHOW REVIEW)

Local stand-up comedians do crack-up job The city's first Students of Stand-Up Comedy Graduation Showcase was held at the Mission Viejo Norman P. Murray Community and Senior Center where visitors and guests cheered on the local performers who on their "day job" are college students, school teachers, and restaurant managers.
---

July 19, 2010

Students of Stand-up Show Whoever thought there was a shortage of funny people in Orange County, you better think again. Another 'Students of Stand-up' comedy show rolls into San Juan Capistrano on Friday, July 20th featuring six new aspiring stand-up comedians waiting to make their comedy debut.